Summary
Sydney FC 2 (Buijs 7', Brosque 51') def. Melbourne City 0
Two stunning goals were the difference as Sydney FC eased to a comfortable 2-0 win over Hyundai A-League rivals Melbourne City in the FFA Cup quarter final.
Dutchman Jordy Buijs curled in a wonderful free kick within seven minutes of the start to give the Sky Blues the advantage, before captain Alex Brosque added a fabulous second following a fantastic ball from new Polish signing Adrian Mierzejewski.
Mierzejewski was a stand-out for the Sky Blues and received a standing ovation from the crowd when substituted late in the game.
Sydney FC are yet to concede a goal in this season's competition and will find out their semi-final opponents next Wednesday night.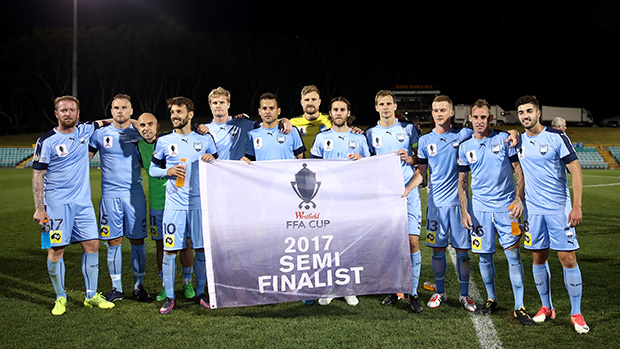 What They Said
Graham Arnold: "It was a good start. It's only the start and there's so much improvement left in the team.
"The whole right hand side is new with Wilkshire and Adrian and when they get more settled with each other, then we'll get greater and greater.
"Luke just showed what a fantastic player he still is, his experience on how he deals with situations in the game and his versatility.
"That's about 30% of what I saw on video [of Adrian], he's not at his best but once he gets more settled I believe he'll be a very exciting player for Sydney FC.
"Both Brosque and Zullo are fine, they just rolled their ankles, they'll be fine.
"I've seen better than that at training easily, some of the training sessions are quite scary when you look at the attack.
"I'm happy to dominate Melbourne City the way we did but we could have been more clinical with more goals."
September 13, 2017

Goals
7' BUIJS GOAL – Jordy Buijs fires a right footed free kick over the Melbourne City goal and into the top back corner of the net.
51' BROSQUE GOAL – Mierzejewski intercepts a pass out of defence and plays a first time ball to Brosque who controls on his head before placing a delightful lob over the keeper to double the lead.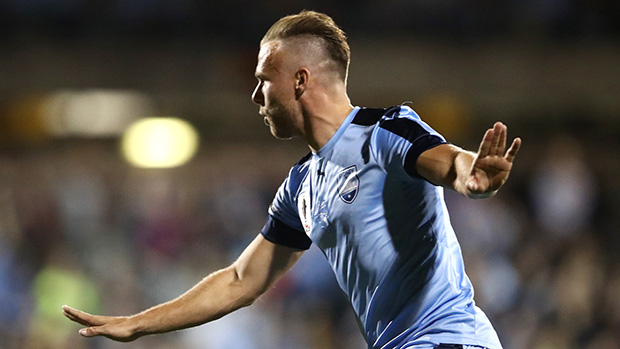 Key Moments
3' BOBÔ CHANCE – Mierzejewski whips a great ball into the box from a free kick. Bobô manages to get slight contact on the ball but not enough to trouble the opposition keeper.
16' ZULLO OFF THE LINE – A fantastic ball from Mierzejewski to the back post finds Zullo who attempts to lob Galekovic but the Melbourne City defence is back to clear.
26' NINKOVIC CHANCE – Great move releases Mierzejewski on the left who cuts back to Ninkovic to shoot but its saved.
50' JAMIESON CHANCE – Kamau floats the ball to the back post to left full back Jamieson who blazes over when he should have done better.
64' MIERZEJEWSKI VOLLEY – Ball is only half cleared from a Brandon O'Neil cross and finds its way to the Polish international just outside the box. Mierzejewski hits it first time on the volley, taking a deflection and just going wide.
Brosky what a goal 👌👌👌 #SYDvMCY

— Matthew Jurman (@mjurman5) September 13, 2017

Team News
Sydney FC 2 (Buijs 7', Brosque 51') def. Melbourne City 0
Head Coach Graham Arnold kept the same starting line to the one which began against Newcastle Jets in a friendly on Saturday with Heward-Belle, Ryall, Retre, Carney and Matt Simon warming the bench.
Ground: Leichhardt Oval
Attendance: 4,102
Referee: Kris Griffiths-Jones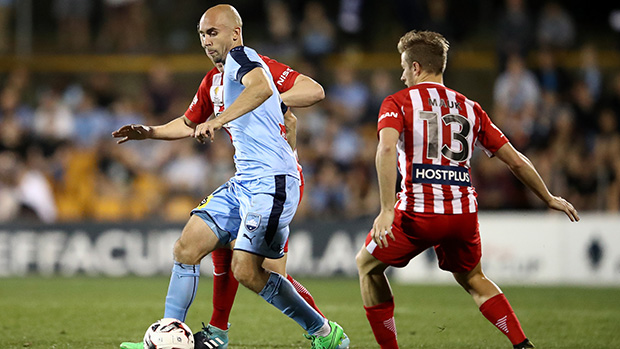 Sydney FC: 1. Andrew REDMAYNE (gk), 4. Alex WILKINSON, 5. Jordy BUIJS, 6. Joshua BRILLANTE, 7. Michael ZULLO (8. Paulo RETRE 76'), 9. BOBÔ, 10. Milos NINKOVIC, 11. Adrian MIERZEKEWSKI (18. Matt SIMON 88'), 13. Brandon O'NEILL, 14. Alex BROSQUE (17. David CARNEY 69'), 26. Luke WILKSHIRE.
Subs Not Used: 30. Tom HEWARD-BELLE (GK), 22. Seb RYALL.
Yellow Cards: Brosque 57'.
Red Cards: None.
Melbourne City: 18. Eugene GALEKOVIC, 2. Manny MUSCAT, 3. Scott JAMIESON, 5. Bart SCHENKEVELD, 6. Osama MALIK, 7. Nick FITZGERALD (17. Tim CAHILL 45'), 8. Neil KILKENNY (9. Marcelo CARRUSCA 62'), 11. Bruce KAMAU, 13. Stefan MAUK, 22. Michael JAKOBSEN, 25. Iacopo ROCCA (26. Luke BRATTAN 82').
Subs Not Used: 1. Dean BOUZANIS (GK), 21. Ruon TONGYIK.
Yellow Cards: Kilkenny 52', La Rocca 57', Muscat 62'.
Red Cards: None.
2017/18 Sydney FC Memberships available NOW. Full Season Memberships available from $270 for Adults and $630 for families, or if you can't commit to all games non-ticketed Memberships from $75! Become a Sky Blue Member today – CLICK HERE