MATCH DETAILS
Saturday, 18 February 2017
Western Sydney Wanderers FC v Sydney FC
ANZ Stadium, Sydney Olympic Park
Kick-Off:  7:50PM (Local) (7:50PM (AEDT))
Referee:  Chris Beath
Assistant Referee 1:  David Walsh
Assistant Referee 2:  Ashley Beecham
Fourth Official:  Stephen Lucas
TV Broadcast:  Live coverage on Fox Sports 505 from 7.45pm (AEDT) and Sky Sport 2 (New Zealand)
Radio Broadcast:  ABC Grandstand, Hawkesbury Radio
Join the conversation on Twitter using the hash-tag #SydneyDerby
Sydney FC  squad:  1.Andrew REDMAYNE (gk), 4.Alex WILKINSON, 5.Jordy BUIJS, 6.Joshua BRILLANTE, 7.Michael ZULLO, 8.Milos DIMITRIJEVIC, 9.BOBÔ, 10.Milos NINKOVIC, 11.Bernie IBINI, 12.Aaron CALVER, 13.Brandon O'NEILL, 14.Alex BROSQUE (c), 17.David CARNEY, 18.Matt SIMON, 19.George BLACKWOOD, 20.Danny VUKOVIC (gk), 21.Filip HOLOSKO, 23.Rhyan GRANT
**two to be omitted**
Ins:  12.Aaron CALVER (promoted), 13.Brandon O'NEILL (returns from suspension), 19.George BLACKWOOD (promoted)
Outs:  16.George TIMOTHEOU (return to NPL squad)
Unavailable:  22.Seb RYALL (hamstring - indefinite)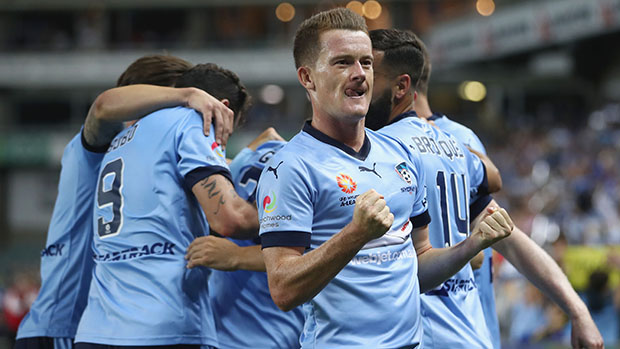 Western Sydney Wanderers FC squad:  1.Jerrad TYSON (gk), 2.Shannon COLE, 3.Jack CLISBY, 5.Brendan HAMILL, 6.Mitch NICHOLS (c), 7.Steven LUSTICA, 10.Nicolás MARTÍNEZ, 11.Brendon SANTALAB, 12.Scott NEVILLE, 13.Bruno PIÑATARES, 14.Jumpei KUSUKAMI, 15.Kearyn BACCUS, 16.Jaushua SOTIRIO, 18.Robert CORNTHWAITE, 20.Vedran JANJETOVIC (gk), 22.Jonathan ASPROPOTAMITIS, 24.Terry ANTONIS, 29.Ryan GRIFFITHS
**two to be omitted**
Ins:  2.Shannon COLE (promoted), 7.Steven LUSTICA (promoted), 29.Ryan GRIFFITHS (promoted)
​Outs:  8.DIMAS (suspended - one match)
Unavailable:  Jacob MELLING (back - indefinite)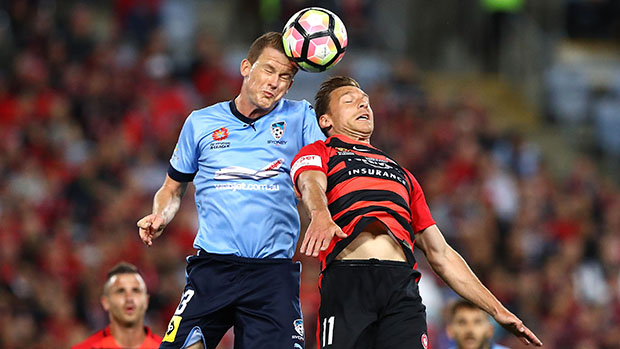 BLUFFER'S GUIDE
Australia has fallen love with the Sydney Derby's irresistible theatre. 
And the Harbour City once again takes centre-stage this weekend as Sky Blue meets Red and Black in the third derby of the season.
Another massive crowd will be on hand at Homebush to see which side of Sydney will be celebrating around 9.50pm on Saturday night.
The Sky Blues are looking to extend their unbeaten run against their neighbours to an incredible 10 matches – or some 37 months – and the form lines suggest that should happen.
While Sydney FC is on the verge of the greatest Hyundai A-League season in history, the Wanderers have been plagued by inconsistency, frustrating not only their fans but coach Tony Popovic.
Their lacklustre 2-0 loss to the Mariners last weekend is the perfect example. With an opportunity to cement their spot in the top six, Wanderers produced a lacklustre display at Spotless Stadium.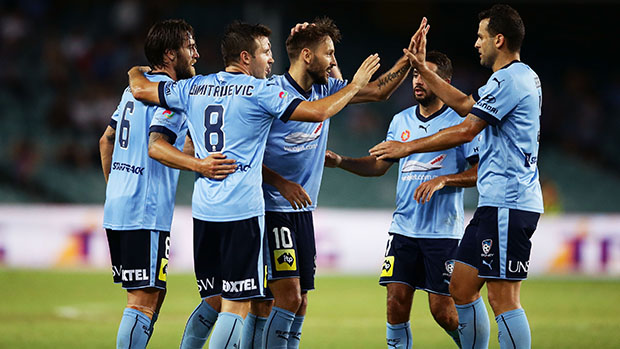 A repeat performance and they'll surely be punished again. But the beauty of the derby is that form really does count for nothing. The home side will need little motivation to get up for this one.
While the Wanderers have been hit-and-miss all season, the Sky Blues have been utterly sublime.
It seems like Graham Arnold's side are breaking records and setting new standards almost every week.
Solid and dependable at the back, eye-catching and ruthless in attack. The Sky Blues showed in the first half of last week's 3-1 win over Wellington how unstoppable they can be when they get it right.
Key midfielder Brandon O'Neill is back from suspension but the Wanderers are without one of their own, skipper Dimas Delgado, after he picked up an eighth yellow of the season last weekend.
Ex-Sky Blues Vedran Janjetovic and Terry Antonis are likely to start for the Wanderers adding further spice to an always combustible night.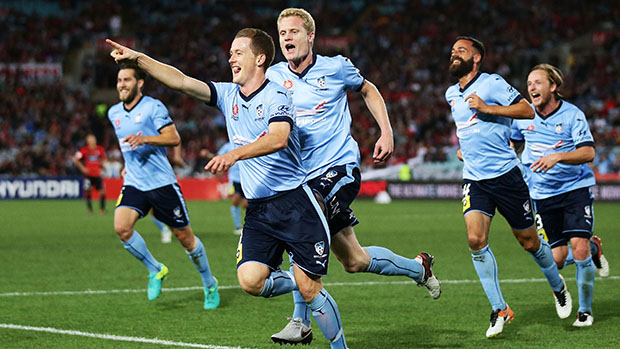 OPTA DATA
Sydney FC are undefeated (W6, D3) in the last nine iterations of the Sydney Derby, with the Wanderers last claiming victory in January 2014.
There have been 14 goals scored in the last three iterations of the Sydney Derby hosted by the Wanderers, with the Sky Blues scoring 10 of those goals.
ROUTE TO GOAL
Dimas' suspension means Uruguayan Bruno Pinatares is likely to come into the starting side and he'll have the tough task of trying to shackle to likes of Brosque and Ninkovic, who do their best work just off the shoulder of striker Bobô.
When it comes to comparing the stats at either end of the pitch for these two sides, well, really there is no comparison.
The Sky Blues have scored 41 goals from their 19 games to the Wanderers' 23, while they've conceded only nine compared to Western Sydney's 29.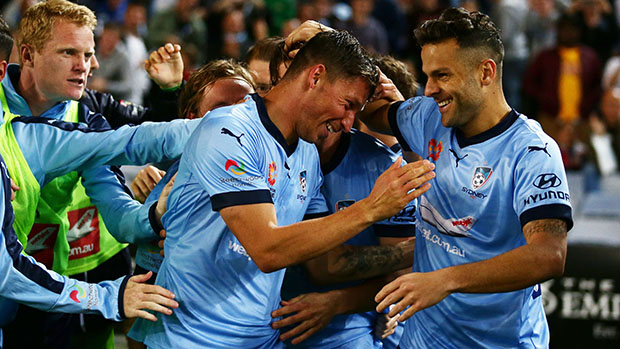 Sydney FC's front four have combined for 31 goals, while the Wanderers' attacking quartet has managed less than half of that (15).
But perhaps the area the Sky Blues have a big advantage is the impact of their marauding fullbacks Grant and Zullo.
It's hard to think of any players in the league that have improved as much as these two this season and their ability to overlap, join attacks late and get in behind defences has been a feature of Sydney's success.
And the stats show the last 30 minutes of the match could well decide the winner. The Sky Blues have scored almost half of their goals between minutes 60-90, while the Wanderers have conceded more than half their goals in the same period.
FORM LINES (last five games)
Wanderers: DWLWL
Sydney FC: DWWDW
PREDICTION
Western Sydney Wanderers 1-2 Sydney FC
Sydney FC Finals Run Flexi Now Available – Choice of any 3 of the last 4 home matches from $40 for Juniors and $75 for Adults. Visit www.sydneyfc.com/finalsrunflexi
This article was originally published at: http://www.a-league.com.au/article/hyundai-a-league-preview-western-sydney-wanderers-v-sydney-fc/l8rjhzaa0tii1e1uyie5txcc8.